If you've ever wondered about the construction of slide systems and their functions, scroll below to read the top four most frequently asked questions.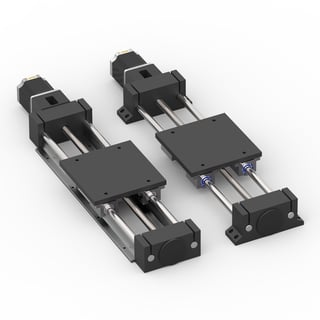 A Helix Linear slide assembly is truly a "System" not just a "Component". The matched components used in Helix Slides result in better system performance. When Helix Linear Slides Systems are used as sub-assemblies setup and alignment time is reduced. Helix Linear Slide Systems are easier to specify and to order. Precision carriage plates supplied with Series 100 and 200 help prevent misaligned shafts and bearings. Aluminum carriage plates include threaded steel inserts at key mounting locations. Protective, non-corrosive finish on all exposed non-wear components.
2. What Type of Lubrication Should Be Used on Ball Bushing Bearings or Linear Systems?
Helix recommends and offers linear bearing lubricant LBL-1 that is synthetic –based oil with PTFE. It is sold in 4 oz bottles (NLU-1006) or a 12 bottle case (NLU-2006)
3. What Can Helix Slide Systems Do?
Helix Linear Slide Systems are designed to be used in the following applications:
Product Packaging
Electronics Manufacturing
Food Processing
Machine Tool Equipment
Component Assembly
Material Handling
Converting Processes
Container Manufacturing
Medical Equipment
Textile Industry
Automated Test Equipment
4. Can Slide Systems Be Modified?
Contact Helix Linear to discuss special requirements. Modifications for linear slide systems include:
Special screws (ground thread, precision rolled with preloaded nuts, high lead screws, metric lead screws, etc.)
Protective boots in a variety of materials (neoprene, metallic, etc.)
Special motor mounts with Servos motors, steppers motors and drives
Custom carriage machining
Have a question that's not answered here? Call us. Our number is 1-855-435-4958. You can also reach out by email at sales@helixlinear.com. For additional reading, check out these related posts on our blog: