3 Ways Lead Screws are Used in the Medical Field: Lead Screw Examples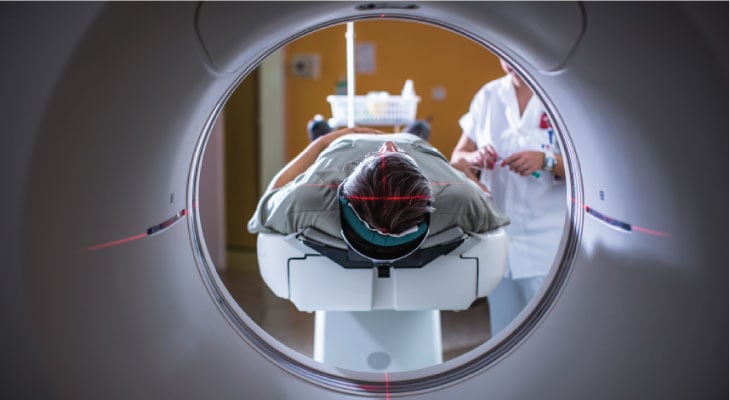 Lead screws are used in multiple types of medical imaging applications. Find out how they are used and what kind of lead screw works for every imaging machine here.
Intensity-Modulated Radiotherapy (IMRT)
Intensity-Modulated Radiotherapy (IMRT)
Linear accelerators deliver precise radiation to a cancerous area while minimizing the dose to surrounding normal tissue. Multi-leaf collimators are adapted to IMRT equipment to move tungsten plates that mask the tumor for treatment. The thinner the plates, the higher the resolution, requiring tiny lead screw diameters in this application.
Products Used: Small diameter lead screws (as small as 2 mm) and custom lead screw nuts made from materials designed to perform in gamma radiation environments.
MRI, CT, and PET Machines
These imaging equipment utilize long lead screws to drive the table/patient bed, moving the table in and out of the machine. These lead screw examples are usually 20 mm in diameter with long leads (up to 2 meters) that back drive. The back drive allows the patient to exit the machine in a power-out situation. The lead screws are combined with anti-backlash nuts to enable accurate bi-directional positioning. Lead screw assemblies are favored over ball screws in these medical imaging applications due to lower cost, long lead screw length, and smooth, quiet operation. The screws are typically made from stainless steel but can be manufactured in aluminum when magnetic fields are a factor.
Products Used: 20 mm diameter lead screws (made from aluminum when necessary), approximately 2 meters in length combined with anti-backlash nuts.
X-Ray Machines and Digital Scanning Equipment
X-ray machines, digital scanning, and printing applications use lead screws to drive the read or write axis to scan or print images. Lead screws combined with anti-backlash nuts provide high bi-directional repeatability and smooth operation. Highly customizable nuts are combined with the lead screws to accommodate specific design features such as material and space restrictions.
Products Used: Lead screws and custom anti-backlash nuts.
Helix Linear Technologies offers standard and custom lead screw assemblies in multiple material options. Additional customization options include PTFE coating to lower friction and increase efficiency, custom lead screw end-machining, and custom nut design.