Advancing Security System Positioning and Control with Lead Screws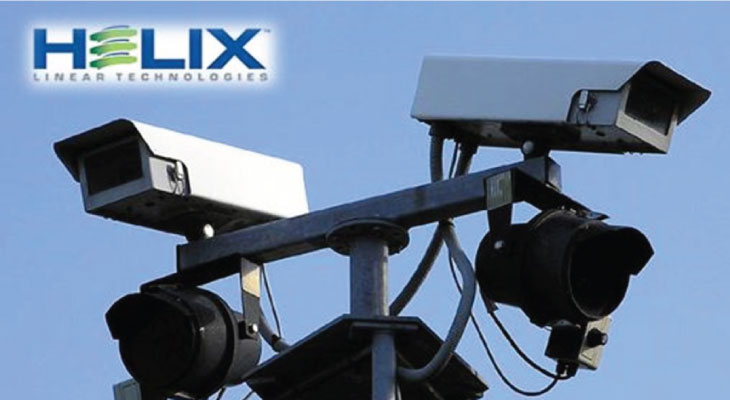 The Challenge
The terrorist attacks of Sept. 11, 2001, dramatically increased demand for automated security systems in practically all facets of society. From military and governmental security technologies to commercial and residential surveillance systems, automated security represents one of the fastest-growing markets in today's global economy.
Most automated security systems involve some combination of cameras, sensors, and positioning mechanisms, which are then integrated into surveillance, detection, and alarm systems. These systems watch over airports, rail stations, shipyards, and sensitive installations, such as military bases, nuclear power facilities, and chemical plants. They are also used for border surveillance, perimeter intrusion detection, and residential monitoring.
Automated security system manufacturers face the challenge of precisely, reliably, and cost-effectively maintaining tight positioning and control of the cameras, sensors, and detectors through which their systems operate, while at the same time packaging them in a compact design profile that is difficult to detect. This is most commonly done using automated mechanisms, such as pan, tilt, and zoom (PTZ) camera and sensor positioning systems. To maintain clear imaging resolution—and in the case of ground vibration sensors, eliminate false positives—these positioning systems require a very stable and rigid operational platform. This level of precision and stability formerly required the use of expensive ball screws for precisely controlling linear motion.
The Solution
A new generation of more cost-effective precision lead screws and highly engineered plastic nuts are now available for automated security system applications. Precision screws not only offer the same high degree of linear actuation precision afforded by ball screws, they also provide a more customizable solution for automated security system design and are available at a fraction of the cost of traditional ball screws.
In addition to providing a more cost-effective precision linear actuation solution, precision lead screws are smaller, offer lubricant-free operation, and are fully customizable for specific security system applications.
Precision screws are less bulky than ball screws (pictured above)—not needing a mechanism to re-circulate ball bearings— and better fit the compact, stealthy design profiles of today's automated security systems. Roughly the diameter of a pencil, these screws are available in 3-millimeter to 10-millimeter diameters, as well as in customizable sizes. Because precision lead screws are smaller than traditional ball screws, automated security system manufacturers can utilize smaller stepper motors and more compact design footprints, supporting the trend toward making surveillance systems more difficult to detect.
By using custom-designed, injection-molded nuts on its precision screws, Helix offers automated security designers the flexibility that they need for maintaining precise positioning and control within a variety of design configurations. Automated security system manufacturers can also take advantage of customized thread profiles and pre-loaded, anti-backlash nuts to further facilitate innovation in automated security system design.
The Helix Advantage
Helix offers the broadest product line of any lead screw manufacturer, including a full line of rolled, milled, or ground screws and nuts, in standard and customizable sizes. The company provides the flexibility required to service the expanding and evolving customer-driven market for precision linear motion products.
Whether you need Acme, Trapezoidal, or Speedy® (high lead) threads with a precision low-backlash nut, or a state-of-the-art anti-backlash design, Helix delivers the highest quality products of exceptional value to its customers.
To learn more about precision lead screws and their use within motion control systems, download our case study - How Are Lead Screws Used in a 3D Printer?: