Expand Packaging Machine Flexibility with Electric Cylinder Actuators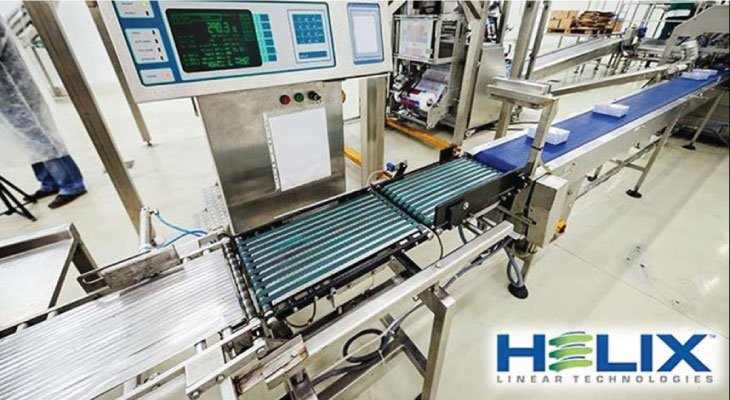 Several trends are driving increased demand for electric cylinder actuators control in packaging machines. While pneumatic-driven actuation has historically served this function, the industry is transitioning away from that approach to realize greater flexibility, cleaner operation, less noise, and reduced costs.
Simply put, electric linear actuators that utilize lead screws are becoming the preferred linear actuation solution in packaging machines because they provide a leaner, cleaner, more flexible approach. Manufacturers of packaged products demand the ability to handle different types and sizes of bags, bottles, and containers. They want to accommodate dimensional variations in packaging without needing a new machine or absorbing the delays and costs associated with manual setup procedures.
Using lead screw-driven electric linear actuators in packaging systems provides the increased accuracy, precise repeatability, and innate adaptability that manufacturers of packaged goods need to boost productivity.
An electric linear actuator combines a lead screw with an electric motor to produce and control linear motion. Electric Linear Actuators are ideally suited for packaging applications because their force and stroke length can be controlled, supporting fast operating speeds and smooth acceleration and deceleration.
In addition to these performance benefits, the minimal setup time, cleaner operation, and enhanced configurability afforded by lead screw-driven actuators enable packaging machines and equipment designers to meet and exceed changing customer requirements. These actuators ensure the proper filling and sealing of packaging and provide a range of flexible options for supporting different applications without changeovers that drive increased productivity in packaging processes.
Types of Packaging Systems that Use Electric Actuators
A variety of packaging systems can benefit from the use of lead screw-driven actuators for linear motion control applications because of the speed, control, precision, and reusability that they provide. Common types of packaging systems that utilize these types of actuators include:
Box/Carton-Packing Machines

– While box-packaging applications can use standard components, they also have special needs requiring customized mechanical components.




Filling Machines

– Whether filling bottles, cups, or other types of containers, these systems use a series of nozzles driven by electric linear actuators, which, when fully enclosed, eliminate the risk of contamination, both in the linear control mechanisms and during the filling process



Pick and Place Systems

– These machines require multi-axis linear motion solutions, whether deployed for small or large components. Matched with profile rail guides and an appropriately sized motor, lead screw-driven actuators can be configured to provide the necessary stiffness for these applications.



Labeling Systems

– Whenever labels are affixed to product packaging, electric actuators are used to drive both the conveyor that transports the packages, which typically vary in size, and engage the label gun mechanism in response to a signal from an optical detection system. Lead screws enable the precision and speed required to complete labeling while packages stay in motion.
Other packaging applications include:
De-Blistering Machines

Capping Systems

Palletizing and Loading Systems
Wrapping Applications
Vacuum Packaging Equipment
Case Packers
Multi-packing Infeed Machines
Bag Inserters and Uncutters
The Helix Actuator Electric Cylinder Advantage
Lead screw-driven actuators provide several key solution advantages that can help you increase overall productivity, repeatability, precision placement, and packaging customization. The advantages include:
Speed
Flexibility
Programmable positioning
Precision control
Simple setups
Reliable performance
Clean, maintenance-free operation
Reduced noise
Low energy consumption
These actuators can be customized to your specific application and are designed to keep up with market demands for changing product sizes, container shapes, and packaging styles, and they are also fully programmable. Most packaging applications have a zero-tolerance for errors. You can program these actuators to provide feedback to the controllers, delivering fast, constant verification during packaging. This allows you to limit mistakes and the number of rejected packages.
Drive Packaging Machine Flexibility with Electric Cylinder Linear Actuators
Helix Linear Technologies supplies a complete line of the lead screw-driven electric linear actuators that have become critical to providing the heightened flexibility, cost control, and repeatable performance required of today's packaging machine designs. With lead screw-driven electric actuators, you will realize the enhanced configurability, precise positioning, and increased productivity necessary to have your packaging systems succeed in an increasingly competitive market.
To learn more about how Helix can help you improve packaging system flexibility and performance, download a copy of the newest Helix catalog.